News and Updates | 16 October 2019
TecHullClean has recently signed a partnership agreement with Gibraltar-based IRM operator THC Diving Ltd to offer its eco-friendly underwater hull cleaning and propeller polishing services in the bay of Gibraltar.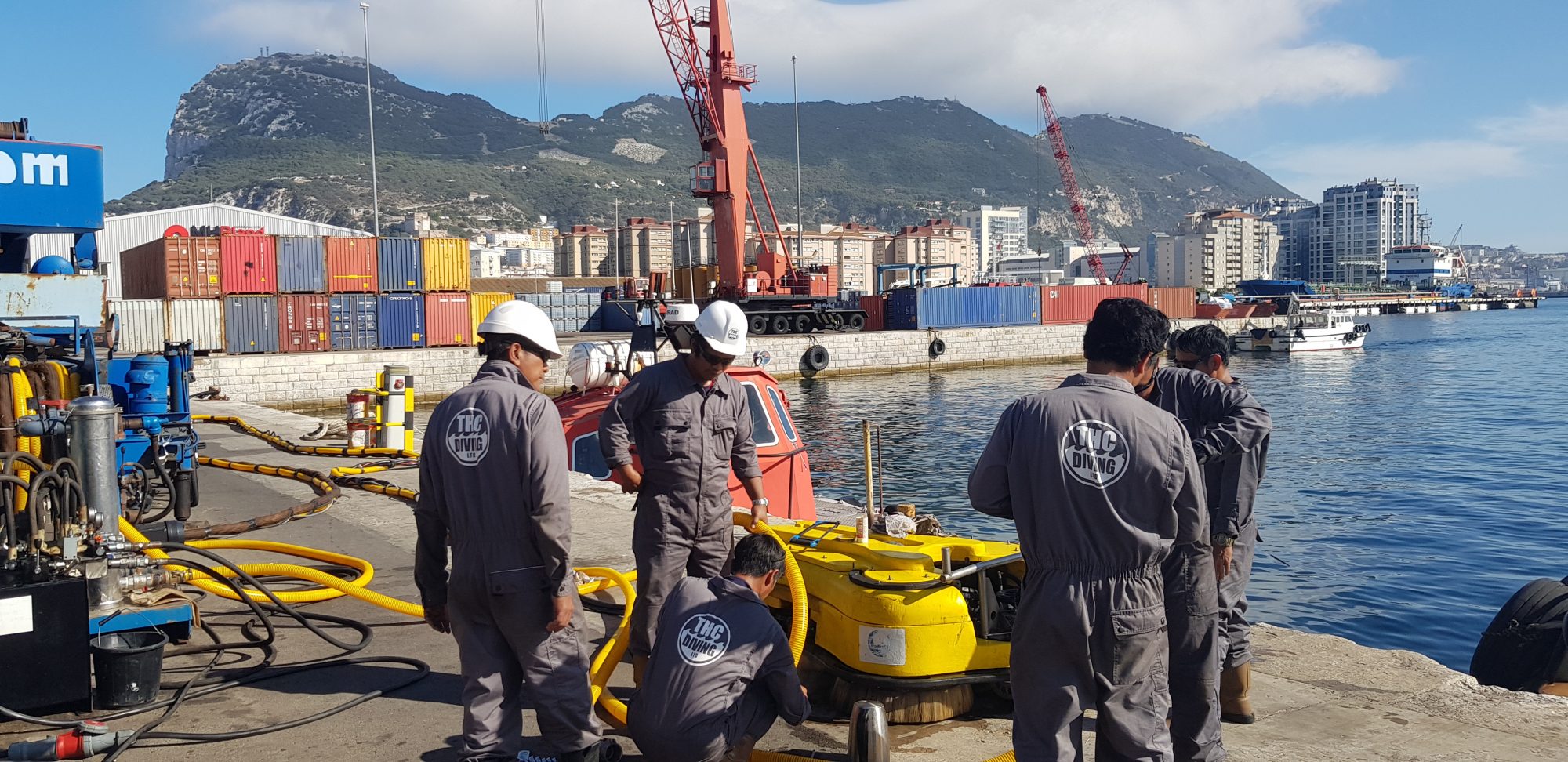 TecHullClean now offers its eco-friendly underwater hull cleaning and propeller polishing services in the port of Gibraltar after having signed a licence agreement with local based diving and IRM operator THC Diving Ltd.
A full set of TecHullClean's unique underwater hull cleaning technology including cleaning units for vertical sides, flat bottom, niche areas and the propeller has been received by THC Diving in Gibraltar. During operations, all cleaning units are connected to TecHullClean's state of the art debris collection and filtration system ensuring that bio-fouling and paint residues are effectively collected and only highly filtered water is released back to the sea.
The following IRM services are now being offered by THC Diving Ltd. in Gibraltar with immediate effect:
Underwater Inspections and Surveys including measurements.
Underwater CCTV / Photographic recording and reporting.
IMO Compliant ECO Hull Cleaning (with Waste-Reclaim & Filtration System).
Propeller Polishing, External Grids Cleaning, Plugging & Minor Repairs.
Damage Inspection, measurements and mitigation.
Civil Engineering works, welding, cutting and any related diving support.
Manned and unmanned underwater surveys.
Underwater laying of cables and pipes.
Underwater Salvage, Search, Recovery and Rescue.
"We are very pleased to have partnered up with a reputable IRM operator, such as THC Diving Ltd. in Gibraltar. The port of Gibraltar is a very strategic location, not only for us but also for ship owners and charterers with high demand for underwater hull cleaning services. We look forward to servicing our existing and new clients with TecHullClean's leading technology and the same high level of service in this new location" commented Shaun Harbinson, Commercial Director of TecHullClean.
About THC Diving Ltd.
THC Diving Ltd., based in Gibraltar is an underwater IRM operator that was formed in response to IMO Guidance which recommends the use of 'best available technology' and encourages all major ports and the wider shipping industry to implement eco-friendly hull-cleaning technology.
The services offered by THC Diving Ltd. are not limited to ship husbandry, the company also has the expertise, experience and equipment to undertake diving works in support of Civil Engineering and Construction projects in the marine or underwater space.
Address: THC Diving Ltd, PO Box 69, 1A North Mole Road, Gibraltar.
Email: info@thcdiving.com